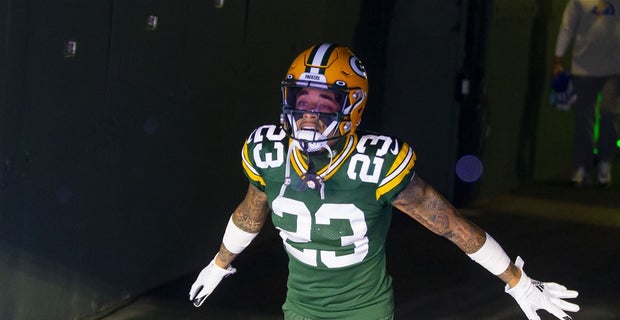 It's not exactly set in stone just yet, but it may as well be.
The Green Bay Packers intend on exercising cornerback Jaire Alexander's fifth-year option at some point in the near future, general manager Brian Gutekunst confirmed on Monday during his pre-draft press conference.
"We haven't," said Gutekunst. "But I certainly expect us to do so."
While it's essentially a formality at this point, the fifth-year option pushes the likelihood of Alexander becoming a free agent down the road and allows the Packers extra time to strike a long-term extension with the star of their secondary.
Emerging from Louisville, Alexander was perceived by many as the top cornerback prospect in the 2018 class. He such a commodity that the Packers needed to jump nine spots in the first round in order to land him — they swapped places with the Seattle Seahawks, exchanging first, third and sixth-round selections for the No. 18 overall pick.
The maneuver turned out to be arguably Gutekunst's finest, as Alexander would land on the Pro Football Writers of America's All-Rookie Team by the end of his inaugural campaign and earn Second-team All-Pro as well as Pro Bowl honors in 2020.
Last season, Alexander was one of the league's top cornerbacks. He never surrendered more than 66 receiving yards in a game — and that number came in the season opener, according to Pro Football Focus. He allowed just north of a 50 percent completion rate during the regular season. 
 The deadline for the Packers to decide whether or not to pick up Alexander's fifth-year option was May 3rd, just days after the 2021 NFL Draft's conclusion. And at just 24 years old, the Packers presumably want to keep him as the face that defines their secondary for the foreseeable future.